Gun Drilling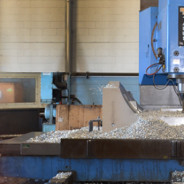 Gun Drilling is a highly flexible, efficent and quick method of producing deep or shallow close-tolerance holes with smooth surface finishes-usually in one pass. This often eliminates the need for reaming, honing, or other finishing operations.
Less known are the potential advantages of shallow hole and deep hole gun drilling. Depending on the material and application, gun drilling is always more precise, and often faster than conventional drilling.
Tolerances as close as 0.0003″ have been consistenly held, and surface finishes of 16 to 20 microinches are expected in gun drilling. Many different types of materials are used in projects ranging from cast iron to tool steel with hardnesses up to 46 R/c.